Land Science
Target Age Group
Grades 9 – 12
Time to Complete
~ 12 hours
Land Science is a virtual internship in which students assume the role of interns at a fictitious urban planning firm, Regional Design Associates.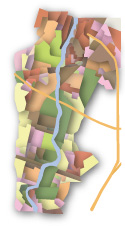 In Land Science, students are tasked with proposing a rezoning plan for the city of Lowell, MA that takes into account the demands of the various stakeholder groups. The stakeholder groups have different concerns they are championing for the city, including housing, jobs, pollution control, wildlife protection, waste disposal, and others.
Using an online platform, students are placed into project teams with a Planning Consultant who mentors them through the experience. Over the course of the internship, students use research studies, stakeholder input, and a couple of professional land planning tools to propose land-use changes. Using these resources, students perform tasks similar to those Urban Planners complete in their training. They research citizen's concerns about issues like revenue, water pollution, waste, housing, and more; use a GIS model of Lowell, MA, called iPlan, to create preference surveys and redevelopment proposals; as well as record and reflect on their tasks in an electronic planning notebook. All activities are complete online, and students are able to communicate with their teammates and Planning Consultant using built-in chat and email.
The internship culminates with students making final zoning recommendations. All of the stakeholders' concerns cannot be addressed simultaneously, so project teams must decide which demands to meet, and tradeoffs to make. Students write a formal proposal justifying their team's decisions and convincing the stakeholders that their proposed plan is an ideal compromise.
Land Science Overview Video